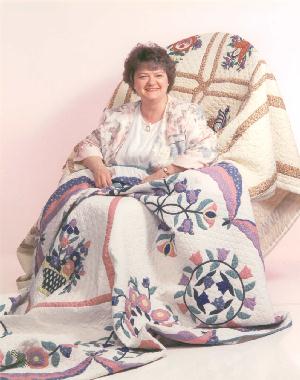 I have won many awards and ribbons some of which include:
Finalist 2006 APNQ Quiltfest, Seattle, WA
2nd place Ribbon 2009 Innovations, Tacoma, WA
Published in Quiltmaker March/April 2010
1st Place Blue Ribbon 2010 Busy Bee Show
3rd Place & Peer Award 2010 Innovations
1st place Blue Ribbon 2013 Quilter's Anonymous
2nd & 3rd Place in 2013 Ben Franklin American Hero Contest
1st place Blue Ribbon 2013 Evergreen State Fair
Juried into 2013 LaConner Museum Quiltfest
Published in American Patchwork & Quilting
Juried into 2014 AQS Quiltweek, Phoenix, AZ
Hello my name is Catherine Kessel and I have been sewing since I was 8 years old. At age 17, I became a self-made entrepreneur by making and selling stuffed toy animals going door-to-door in my local neighborhood. I have been making and selling quilts and crafts ever since.
I have interests in many art forms and have won numerous ribbons.
In whatever my interest, I always strive for excellence. I remember the advice from my father to "measure twice and cut once" and from my mother "to reach for the stars".
In 1969 I made my first quilt. This opened my eyes to a whole new world and I knew instinctively this was the art form I wanted to follow. Since that time, I have made more than 500 quilts and have won many awards.
In 1980, I searched to find others who were interested in quilting and founded the Busy Bee Quilters in Snohomish, Washington. Today, this organization is one of the largest in the state.
In 1984, I also wanted to share my talents by teaching others how to quilt, so I wrote an instruction book titled "The Art of Patchwork©" which I still use today to teach beginners. Many of my students have gone on to become accomplished and award winning quilters.
A few years later, I designed "Patterns of the Month" for Quilt with Ease in Everett, Washington. These were block patterns the shop gave away to customers and it was a very successful program.
In 1986, I was invited to judge the quilts at the Washington State Fair in Monroe, Washington. Then, in 1987, I appraised the antique quilts in the historical Blackman's Museum in Snohomish, Washington. The museum contains many beautiful quilts made from the late 1800's to 1920 including a crazy quilt completed in 1883.
In 1998, I had the very good fortune to have my quilt "Folk Designs of Czechoslovakia" (seen on the back of the chair in the photo at left) as the only featured quilt from Marysville, WA presented in the video "Quilts of the Northwest" produced by KCTS Television, Seattle, Washington. This quilt was also exhibited at Marymoor Museum in Redmond, WA and at the Bellevue Art Museum, in Bellevue, WA.
For more than 40 years, I have won many ribbons for my quilts and have made numerous quilts on commission. I started a small business by making and selling quilts and crafts at the Snohomish Saturday Market and other local craft shows.
In 2006, I was fortunate and honored to have my quilt "The Language of Flowers" accepted by The Association of Pacific Northwest Quilters as a finalist in the 2006 Pacific Northwest Quiltfest. My quilt was one of 276 quilts selected out of 543 entries juried from five northwestern states and four western provinces in Canada. The show is held in Seattle, Washington and is one of the largest regional shows in the country.
Here is a photo of my quilt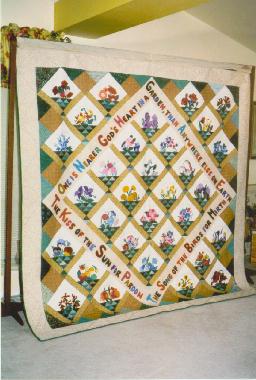 "The Language of Flowers©"
Hand Appliqued
&
Longarm Machine Quilted
by
Catherine Ann Kessel
Marysville, WA
Over the years, I have conducted lectures and slide shows to many local quilting organizations and shops. My favorite topic is the history of how women have used quilts to communicate their political and social beliefs.
I have memberships in numerous organizations including:
| | |
| --- | --- |
| | |
| | |
| | |
| | International Machine Quilters Association |
| | |
| | |
My credentials include degrees in Business, Purchasing Management, Mechanical Drafting and I am a 2001 Graduate from Longarm University™, Renton Washington.
American Quilt Works™ was established in 2001
√ SATISFACTION GUARANTEED
You may contact me at: American Quilt Works™ 5415 67th Street NE, Marysville, Washington 98270 Phone 360-658-1086 email address: ckessel@msn.com
Disclaimer: although the information available at this site is provided in good faith and is believed to be correct in all respects, we accept no responsibility for any errors contained in the information. Further, users of this site assume all risk associated with the use or misuse of the information provided.
American Quilt Works™ honors and respects your privacy. Therefore, you can be assured we will not sell your contact information to anyone.